Water Softener Systems Englewood
Providing Water Softener Installations & Repairs
Since 1981, Water-Pro has helped thousands of homeowners treat their water.  We provide water softener systems in Englewood and all surrounding areas.  Our water softeners are one of our most popular water treatment options for hard water.  Living in Florida, we all have hard water if there is no water treatment system in place.  Hard water contains high level of magnesium and calcium which can cause damage to your plumbing, appliance and fixtures.  Our water softener systems will not only protect these areas but also provide you with cleaner water for cooking, bathing and more.  We provide water softener installations, repairs and other services.  Contact our team today to learn more.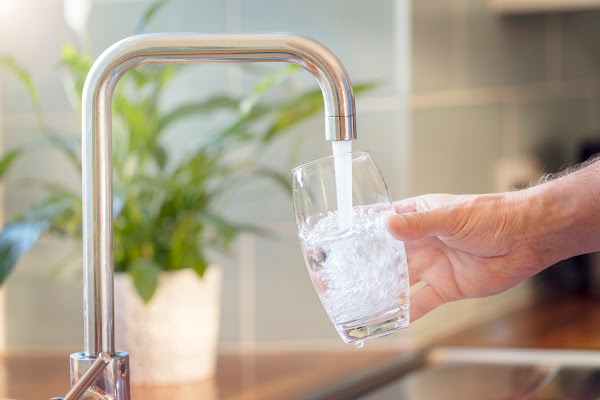 Common Signs of Hard Water
Your skin feels dry and itchy
Your clothing is not getting clean or appears dull
Spots on your glasses, flatware and dishes
Your water heater will operate more efficiently as scale buildup on the elements reduces the ability of the elements to transfer heat to water
You find soap scum on your bathtub, shower curtain or shower door
You have mineral build up around water fixtures
Your appliances are wearing out quickly
Your water heater won't need to be drained periodically to remove hard water deposits settling at the bottom of the tank, nor will the element fail prematurely due to hard water deposits
Benefits of a Water Softener System
Hard water is not only tough on appliances, it is also rough on your skin and hair. Hard water will impact the performance and lifespan of your appliances. This scale build up inside your pipes, appliances and fixtures will reduce their efficiency, costing you money in future repairs and replacement. From washing clothes to taking a shower, more energy is needed to complete normal tasks. Hard water can be treated with a water softener to reduce the impacts of hard water. Additional benefits of water treated with a water softener include:
You will save money on appliance repairs and replacements
Your energy bill will go down
Prolongs the life of your appliances and pipes
Your hair and skin will be cleaner and softer
You will have cleaner and brighter clothes
Your dishes will be cleaner and spot free
Water softeners will preserve your plumbing system
We Provide Top Brands of Water Softener Salt
If you currently have a softener system and are looking for the best priced, highest quality salt, contact us. We use only proven brands you know and trust to ensure your water softener stands the test of time and meets all of your needs, including: Valu-Soft Solar Salt by Morton and Morton system-Saver Pellets in the yellow bag. After purchasing 10 bags, you will get 1 free.
Have the Best Water Softener Systems Company on your Side
Locally owned and operated, we employ a team of highly skilled technicians. Since 1981, Water-Pro has helped thousands of homeowners treat their water. Our skilled technicians have over 30 years of experience each. They will arrive at your property on time, test your water and any existing equipment and recommend a solution based on your family's needs. Whether you need a new system installed or an existing system serviced, our team is committed to your complete satisfaction getting the job done right the first time. Contact us today.
Water-Pro is proud to offer dynamic water treatment services and products for residential and commercial customers in
Manatee County
Bayshore Gardens, Braden River,  Bradenton, Bradenton East, Cortez, Ellenton, Lakewood Ranch, Oneco, Palmetto, Palma Sola, Parrish, Samoset, South Bradenton, Memphis, West Bradenton, Whitfield
Sarasota County
Bee Ridge, Englewood, Fruitville, Gulf Gate Estates, Kensington Park, Lake Suzy, Laurel, Myakka , Nokomis, North Port, North Sarasota, Osprey, Plantation, Sarasota, Sarasota Springs, Siesta Key, Southgate, South Sarasota, South Venice, St Armands, Tallevast, The Meadows, University Park, Vamo, Venice, Venice Gardens, Warm Mineral Springs
Charlotte County
Cape Haze, Grove City, Manasota Key, Placida, Port Charlotte, Rotonda West