We are your Water Treatment Specialist
When you are in need of treatment for your water system, contact our team at Wat-Pro.  We provide well pumps in Myakka and surrounding areas.  In addition, we are a full service well treatment company and can help you find the best treatment options for your water's unique needs.  Every water well situation is different. That's why we never take a "one size fits all" approach.  For over 30 years, our team has provide customized water treatments including Submersible Pumps, Surface or Jet Pumps and all other key components of an efficient well water system including Pressure Tanks.  As one of the area's oldest water treatment companies, we have the expertise to do the job right the first time! Schedule your appointment today and learn more about our water treatment options.
What to Consider When Purchasing a Home with a Water Well on the Property
There are many things to take into consideration when buying a property with a water well already in place. The two main things would be to verify the quantity and quality of the water the well produces. Our team at Water-Pro can determine this for you and also check the following:
What is the age of the well? If it's 20 years or older it may require new parts sooner rather than later.
What is the location of the well? Is it far enough away from the septic system to avoid any leaching?
Where is the well cap located? Is it high enough to avoid runoffs?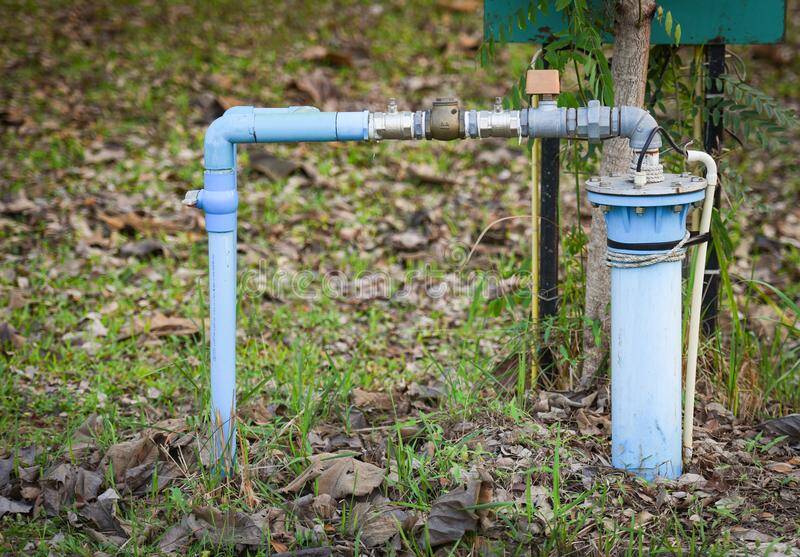 I. Submersible Well Pumps
A submersible well pump operates below the water level in your water well. These pumps push water from your well to the surface. Depending on the output required, pumps can vary in size. The size of the unit is based on what the peak demand of your household water consumption requires. Submersible pumps house a hermetically sealed motor encased in a 2 to 4-foot cylinder that is 3 to 5 inches in diameter. When the systems pressure switch is on, the motor engages and drives an impeller that spins, pushing water through the pump body to the surface. Then the water goes into a pressure tank until used within your household.
Advantages of Submersible Pumps
Submersible pumps are considered more reliable than above ground pumps and have fewer mechanical problems
Submersible pumps can have a life span of up to 25 years
Because they are below the surface of the well water, submersible pumps are not subject to cavitation like an above ground pump
Unlike an above ground pump, submersible pumps won't lose prime which can result in a motor burning out
II. Surface – Jet Pumps
A surface or jet pump is one of the most common well pumps for shallow wells. Unlike submersible pumps, jet pumps are mounted above the well. They are often contained in a well house but can also be in the home. Jet pumps use atmospheric pressure which creates a vacuum which draws the water up from the well.  Jet pumps have an electric motor that drives an impeller or centrifugal pump. Water is drawn through a narrow opening in the front of the impeller where it is constricted. Much like a nozzle on a garden hose, this causes the speed of the water to increase. As water leaves the jet, a vacuum is created which sucks more water from the well. Because they use water to "draw" water, jet pumps require priming or the need to be filled with water in order to work properly.
III. Pressure Tanks
Pressure tanks are an integral part of any water well pump system. Whether you have a Submersible Pump or a Jet Pump, each move the water from your well to a Pressure Tank. Pumps don't run continuously. As water pumps into the systems pressure tank it, compresses the air in the tank. When the pressure in the tank reaches a preset level, usually 40 to 60 PSI, the pump will automatically turn off. As you use water in your household, the PSI will drop in the pressure tank. Once it reaches a certain level, from between 20 to 40 PSI, the pump will engage and draw water into the pressure tank. The cycle continues to repeat based on water usage.
Pressure tanks come in various sizes depending on household size and consumption. Pressure tanks can be as small as 10 gallons, or as large as 200 gallons. A typical residential situation calls for a pressure tank around 44 gallons. The professionals at Water-Pro will analyze the needs of your situation and recommend the proper pressure tank to meet your consumption needs.
Put the Best Well Pump Company on Your Side, Water-Pro!
We are a locally owned family business. Since 1981 the professionals at Water-Pro have provided Manatee, Sarasota, and Charlotte counties with affordable and effective solutions to their Commercial and Residential water treatment needs. The experts at Water-Pro have the expertise to tackle any problem or need. From repair or replacement of water well pumps and pressure tanks, water testing, chlorination systems, water softening, and water treatments, we do it all. Named multiple times by the Venice Gondolier-Sun as a Readers' Choice Award Winner, we strive every day to earn and grow our reputation and live up to our customers' expectations. If you suspect there is a problem with your wells pump or pressure tank, call us today. We'll determine the problem and the solution and get your life back to normal.
Water-Pro is proud to offer dynamic water treatment services and products for residential and commercial customers in
Sarasota County
Bee Ridge, Englewood, Fruitville, Gulf Gate Estates, Kensington Park, Lake Suzy, Laurel, Myakka , Nokomis, North Port, North Sarasota, Osprey, Plantation, Sarasota, Sarasota Springs, Siesta Key, Southgate, South Sarasota, South Venice, St Armands, Tallevast, The Meadows, University Park, Vamo, Venice, Venice Gardens, Warm Mineral Springs
Charlotte County
Cape Haze, Grove City, Manasota Key, Placida, Port Charlotte, Rotonda West