Reverse Osmosis Systems Ellenton
Achieve Safe, Clean Drinking Water with Reverse Osmosis
One of the best purification systems on the market today, reverse osmosis will provide you with the best drinking water possible!  At Water-Pro, we provide installations and services for reverse osmosis systems in Ellenton and surrounding areas.  Whether you are looking to install a new system, or need your existing system serviced or repaired, you can count on us to provide the highest quality products, the best customer service in the industry and reasonable prices.  Our reverse osmosis systems will cleanse your water and eliminate chlorine, bacteria, sodium and other contaminates, leaving you with clean, safe drinking water. Contact our team today and experience the benefits of reverse osmosis in your home.
What is a Reverse Osmosis System?
Reverse osmosis systems are filtration systems which eliminate any water particle that is smaller than a molecule by forcing your tap water through a membrane. This membrane removes impurities such as salt, chlorine and bacteria from the water as the water enters the system. The impurities are filtered out and eliminated down the drain. What is left is clean water.
Why Does Reverse Osmosis Water Taste Better?
When water is in its purest form it has no flavor or odor. When you feel you can taste water you are actually tasting the minerals dissolved in the water. For example, water with high levels of sodium can taste salty or water with high levels of magnesium may taste bitter. This is why many people find the taste to regular tap water unpleasant and less refreshing.  When you treat your water with a reverse osmosis system, you are reducing these minerals which results in a more satisfying tasting water.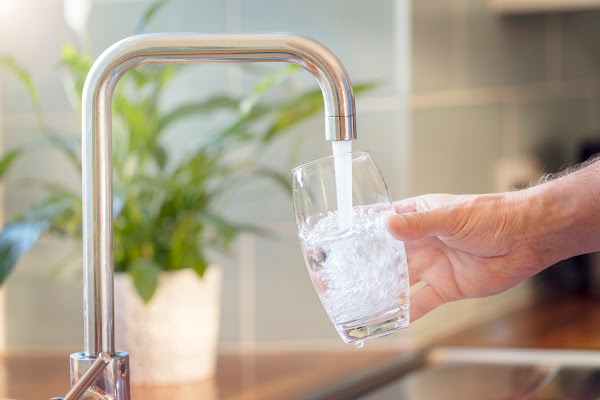 Benefits from Installing a Reverse Osmosis System
From coffee to soups and sauces, everything will taste better with a reverse osmosis system. Reverse Osmosis filtered water is great for:
Cleaning Fruits & Vegetables
Additionally, a reverse osmosis system is cost effective and is great for the environment. The need to purchase bottled water will be gone promoting less environmental waste. These systems also use less energy than other types of filtering systems, saving you money.
Enjoy Great Tasting, Pure Water with a Reverse Osmosis System
As a locally owned and operated company, Water-Pro has helped thousands of homeowners treat their water.  Since 1981, our team has been dedicated to providing the most reliable, economical and efficient reverse osmosis systems available.  When you contact our team, we will arrive at your property on time, test your water and any existing equipment and recommend a solution based on your family's needs. Whether you need a new system installed or an existing system serviced, our team is committed to your complete satisfaction. So if you're in the market for a reverse osmosis system in Cortez, call or contact us today.

Excellent service, knowledgable, on time, professional, very pleased!!
Will defineitly use again !!
Water-Pro is proud to offer dynamic water treatment services and products for residential and commercial customers in
Sarasota County
Bee Ridge, Englewood, Fruitville, Gulf Gate Estates, Kensington Park, Lake Suzy, Laurel, Myakka , Nokomis, North Port, North Sarasota, Osprey, Plantation, Sarasota, Sarasota Springs, Siesta Key, Southgate, South Sarasota, South Venice, St Armands, Tallevast, The Meadows, University Park, Vamo, Venice, Venice Gardens, Warm Mineral Springs
Charlotte County
Cape Haze, Grove City, Manasota Key, Placida, Port Charlotte, Rotonda West