When Well Pumps Need Repairing or Replacement in Fruitville Call Water-Pro
If you need your well pump repaired or replaced in Fruitville, call the professionals at Water-Pro. Since 1981 Water-Pro has helped private well owners throughout Manatee, Sarasota and Charlotte counties keep their well pumps working efficiently. We are specialists in the repair and installation of all types of wells, including Submersible Pumps, Surface or Jet Pumps and all other key components of an efficient water well system including Pressure Tanks. The Florida aquifer is one of the largest in the world. While there are multiple aquifers in Florida, our service area is served by the Intermediate Aquifer System. If your property is served by a water wall system, it's inevitable that at some point it will require repair or replacement.  Regardless of the circumstance, we have the expertise to do the job right the first time. 
As one of the area's oldest water treatment companies we are proud to have a dedicated staff that average over 30 years of experience in the water treatment industry. Every water well situation is unique. That's why we never take a "one size fits all" approach. It takes a trained professional to determine the best approach to treating your water. After testing your water, we will design and build a customized water treatment solution to address your specific circumstances.
Will having a pump with a higher horsepower create a stronger suction?
No, most self-priming pumps have a vertical lift potential of 20-25 feet.  This is a function of atmospheric pressure not the motor size.
We Service and Repair the Following Types of Well Pumps in Fruitville
I. Submersible Well Pumps
As the name would imply submersible well pumps operate below the water level in your water well. Submersible pumps are designed to push water from your well to the surface. Depending on the output required, pumps can vary in size. The size of the unit is based on what the peak demand of your household water consumption requires. Submersible pumps house a hermetically sealed motor encased in a 2 to 4-foot cylinder that is 3 to 5 inches in diameter. When the systems pressure switch is on, the motor engages and drives an impeller that spins, pushing water through the pump body to the surface. The water is then stored in a pressure tank for future use.
Advantages of Submersible Pumps
Submersible pumps are considered more reliable than above ground pumps and have fewer mechanical problems
Submersible pumps can have a life span of up to 25 years
Because they are below the surface of the well water, submersible pumps are not subject to cavitation like an above ground pump
Unlike an above ground pump, submersible pumps won't lose prime which can result in a motor burning out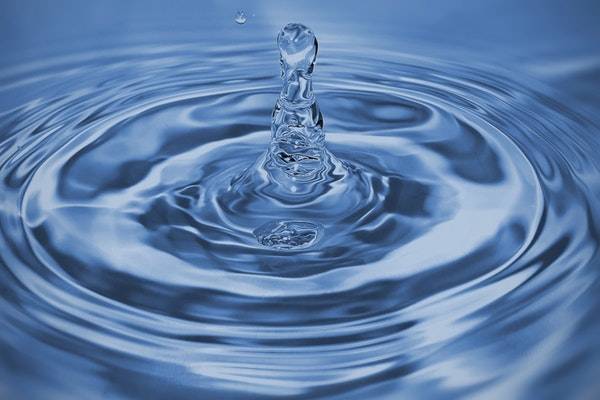 II. Surface – Jet Pumps
One of the most common well pumps for shallow wells is a surface or jet pump. Unlike submersible pumps, jet pumps are mounted above the well. They are often contained in a well house but can also be in the home. Whereas a submersible pump pushes water to the surface from within the well, a jet pump utilizes suction to draw water up from the well. Jet pumps use atmospheric pressure which creates a vacuum which draws the water up. This is not unlike how a straw works. Jet pumps have an electric motor that drives an impeller or centrifugal pump. Water is drawn through a narrow opening in the front of the impeller where it is constricted. Much like a nozzle on a garden hose, this causes the speed of the water to increase. As water leaves the jet a vacuum is created which sucks more water from the well. Because they use water to "draw" water jet pumps require priming or the need to be filled with water in order to work properly.
III. Pressure Tanks
Pressure tanks are an integral part of any water well pump systems. Whether you have a Submersible Pump, or a Jet Pump water is moved from the well to a Pressure Tank. Pumps don't run continuously. As water is pumped into the systems pressure tank it compresses the air in the tank. When the pressure in the tank reaches a preset level, usually 40 to 60 PSI, the pump will automatically turn off. As water is drawn from the tank for household use PSI will drop in the pressure tank. Once it reaches a certain level, from between 20 to 40 PSI, the pump will engage and draw water into the pressure tank. The cycle continues to repeat based on water usage. Pressure tanks come in various sizes depending on household size and consumption. Pressure tanks can be as small as 10 gallons, or as large as 200 gallons. A typical residential situation calls for a pressure tank around 44 gallons. The professionals at Water-Pro will analyze the needs of your situation and recommend the proper pressure tank to meet your consumption needs.
Call or Contact Water-Pro for Well Pumps in Fruitville Today!
We are a locally owned family business. Since 1981 the professionals at Water-Pro have provided Manatee, Sarasota, and Charlotte counties with affordable and effective solutions to their Commercial and Residential water treatment needs. The experts at Water-Pro have the expertise to tackle any problem or need. From repair or replacement of water well pumps and pressure tanks, water testing, chlorination systems, water softening, and water treatments, we do it all. Named multiple times by the Venice Gondolier-Sun as a Readers' Choice Award Winner, we strive every day to earn and grow our reputation and live up to our customers' expectations. If you suspect there is a problem with your wells pump or pressure tank, call us today. We'll determine the problem and the solution and get your life back to normal.

This is a great company the take care of my water system which includes pump, well and whole house softening system. They are prompt and courteous. Very reliable.
Water-Pro is proud to offer dynamic water treatment services and products for residential and commercial customers in
Manatee County
Bayshore Gardens, Braden River,  Bradenton, Bradenton East, Cortez, Ellenton, Lakewood Ranch, Oneco, Palmetto, Palma Sola, Parrish, Samoset, South Bradenton, Memphis, West Bradenton, Whitfield
Sarasota County
Bee Ridge, Englewood, Fruitville, Gulf Gate Estates, Kensington Park, Lake Suzy, Laurel, Myakka , Nokomis, North Port, North Sarasota, Osprey, Plantation, Sarasota, Sarasota Springs, Siesta Key, Southgate, South Sarasota, South Venice, St Armands, Tallevast, The Meadows, University Park, Vamo, Venice, Venice Gardens, Warm Mineral Springs
Charlotte County
Cape Haze, Grove City, Manasota Key, Placida, Port Charlotte, Rotonda West